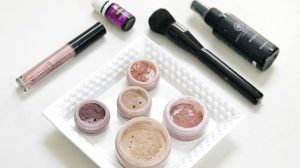 Hello again. So let's talk about Makeup. Have you ever looked at what is in most makeups? You may want to sit down first but most makeup contains chemicals and toxins. Our skin actually absorbs most of what we put on it. Do you really want those chemicals and toxins on your skin and in your body?
Young Living has a Savvy Minerals makeup line that is both chemical and toxin-free. In fact, my skin is actually healthier now that I am using Savvy Minerals and I have very sensitive skin.  The makeup feels great and does not damage your skin – a win-win.
Savvy Minerals has no gluten, no soy, no mineral oils, no petrochemical, no talc, no parabens, no nano-particles, no phthalates, no bismuth, no metals, no synthetic dyes, and no synthetic fragrance.
What does Savvy Minerals have in it you ask? Well, there is arrowroot power, jojoba oil, sweet almond oil, sunflower oil, vitamin E, mica, aloe aspen bark extract, beeswax, and pure essential oils.
If you are ever interested in learning more about any of the information in these blogs please feel free to contact me through The Hammock LLC.
Well, that is it for now. We will chat again later.
– Melissa