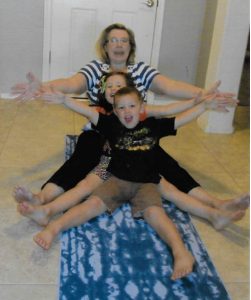 Life is a Journey. At age 25, I started working out with Richard Simmons and "Let's Get Physical" with Olivia Newton-John. I have done aerobics, Jazzercise, a little Zumba, spinning, and powerlifting. My journey with yoga started 3 ½ years ago at The Hammock.  I wish I would have found Sarah 10 years ago. Sarah is the best-her yoga knowledge is unending. Sarah is a very caring person and tries to take care of the needs of all her yoga students.
My career journey as an x-ray technologist is ending on 12/31/19. I have been taking x-rays since 1975. Bob and I will be married for 42 years in September. Our retirement journey will be spending more time with our 6 grandchildren – Kendylle and Leland (Arizona); Lucas, Ella, and Taylor (Wisconsin); and Landyn (Lowell).  Bob and I want to take road trips all over the U.S.
My wish is to advocate yoga to everyone I know. It is a mind, body and soul journey that everyone needs to take. I look forward to working out with my yoga buddies. Everyone one of us is on a different journey. Our journey is to keep flexible, strong core, balance, breathe, relax, and enjoy each day.