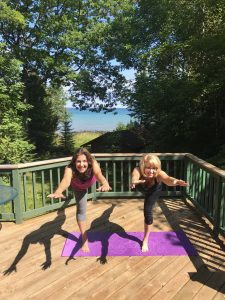 Yoga is a small word with infinite mind, focus, and health benefits for individuals of every age and body type. The essentials of yoga encompass breath control, quiet, mindful meditation, and posture alignment that strengthen your core and create physical and mental flexibility.
While yoga itself offers many similar benefits, there are some differences to help with your understanding of how yoga styles differ in practice.
Hatha Yoga focuses on your breath as you hold poses and practice being present while employing deliberate movements.
Vinyasa Yoga is the mindful way you flow between poses. Almost like choreography, the routines of yoga gently, yet powerfully allow safe mobility from one pose to another.
Sunset and Refreshing Yoga
This is a MIXED LEVEL CLASS, which is great for beginners and those who have experience. It is one hour of Hatha Yoga with a Vinyasa style. Yoga is great for both men and women! It helps to tighten and tone the entire body, enhances balance, improves flexibility, builds core strength, decreases pain and misalignment. Yoga focuses on breathing for a calmer mind, and strength building through yoga poses. Bring water, wear comfortable clothes, and bring a mat if you have one (don't worry, we have extra mats available).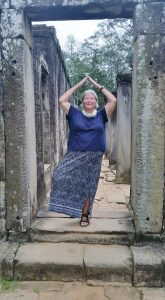 Expressions of Gentle Yoga
This one-hour class is designed for those who may struggle with being on the floor, are deconditioned, lack strength, etc., but want to find movement and freedom back in their lives and have a little fun. Yoga focuses on breathing for a calmer mind, and strength building through yoga poses.  Class is geared toward the individual's needs. Various Props may be used: chairs, exercise balls, weights, hoops, etc. Extra mats are available. Please wear comfortable clothes.
Energetic Yoga Flow
This one-hour class with vinyasa flows designed to build heat and strength. This practice is a total body workout that will enhance circulation and lengthen and strengthen the musculature. Finding the rhythm of breath with the movements is a powerful tool to get full benefits for the whole body. Be ready to move and have fun.
Yoga for Warriors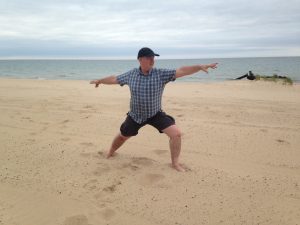 Yoga for Warriors is a unique practice that is especially beneficial to anyone who has been affected by Post Traumatic Stress Disorder (PTSD) or Trauma Brain Injury (TBI). This form of yoga is trauma-sensitive, with special attention given to the long-term effects of violence, abuse, and inconsistent mental health. Yoga for Warriors is well suited for men and women of the military including their families, first responders, and anyone who has been a victim of violence or abuse.
Family yoga
Family yoga creates a connection with each other and builds unified parent-child relationships. Family unity is becoming a challenge as we live in a world driven by chaotic schedules and social media. The constant attraction to screen time is proven to overstimulate the brain and body. Family yoga is a remedy for lack of prioritized time to be fully present in the parent-child relationship. Studies have shown that practicing yoga as a family reduces stress and anxiety and improves attention and focus, while becoming healthier.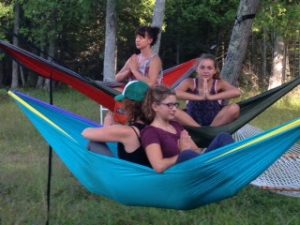 Collectively, these styles of yoga practiced consistently over time will:
deepen confidence
strengthen muscles
increase flexibility
improve balance
reduce stress
instill feelings of calm
improve focus
Our clients have even reported that practicing yoga has produced higher self-esteem.
Our yoga classes at The Hammock are designed to support your individual wellness goals through group classes or one-on-one practice. The natural confluence of yoga is a mind-body connection that improves balance, tones muscles, reduces pain, and creates muscle memory for skeletal alignment while promoting a sense of emotional calm and mental focus.
Family yoga meets at the Lowell KDL Library at 10:30 am on Saturday mornings. Classes include 30 minutes of stretching, moving, strengthening, and group play. All family members and friends are invited. Please check the calendar for scheduled days as it goes into sessions.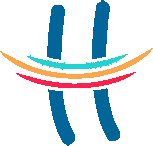 The Hammock offers three yoga venues:
Group Classes
Group classes are offered onsite at The Hammock. Regular attendance of yoga classes in a group setting feeds your inner soul while fostering a sense of identification and belonging. The repetitive nature of yoga produces confidence through learning a routine that can be easily mastered. Faithfully pursuing a yoga practice will lead you to thrive and flourish in ways you didn't dream possible.  Group classes are located at 1703 Alden Nash Ave. SE Lowell, MI 49331.
Private or Semi-private Yoga
The Hammock offers private or semi-private classes geared to your specific needs and desires. Call 616.893.5661 or email us to schedule an appointment.
Location for Private Yoga and Restorative & Therapeutic Yoga is 1703 Alden Nash Ave. SE Lowell, MI 49331.
Workplace Yoga
The Hammock offers yoga classes in off-site settings. We are available to consult on the location to facilitate a successful yoga session for co-workers, friends, or family. We have held yoga events at such places as the Lowell Showboat, poolside, and at spaces inside business offices. Call 616.893.5661 or email us for more details or to schedule your workplace yoga session or other yoga event.