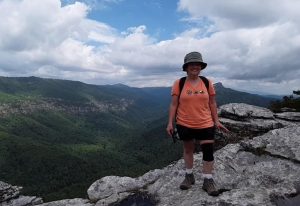 Hi, I am Karen Walker. I have been attending Sarah's yoga class for over 5 years. I thought that yoga was twisting your body into a pretzel so I would not be a good candidate. Sarah convinced me that my perception was completely wrong and to try it. Or as Sarah would say "No worries".  Within a few months, I noticed improvement in my balance, strength, and flexibility.
My husband Terry and I have two adult children and three grandchildren. My leisure activities are physical as well as social and involve our family and friends. I enjoy cross country skiing, snowshoeing, crew (or rowing) in an 8 person boat, kayaking, hiking, and backpacking. I am a recently retired Occupational Therapist having been employed for 31 years as program director and faculty at Grand Rapids Community College Occupational Therapy Assistant program. I volunteer at Family Promise, Ability Weavers, Wittenbach Wege Nature Center, and Ada Congregational Church. Family Promise is an interfaith hospitality network that provides emergency shelter and solutions for families facing a housing crisis. Ability Weaver is a store in Lowell that sells woven products made by weavers with special needs. Wittenbach Wege Nature Center of Lowell schools provides hands-on nature programs. I participate in the classes for 3-6-year-olds called Tiny Trekkers.
As I age balance, strength, and flexibility are important for my health. I appreciate Sarah's attention and response to our needs as she leads our yoga classes.