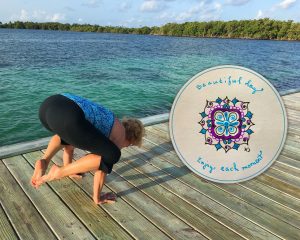 I get inspired by beautiful nature scenery and unique architecture. When I look at these types of visuals, my creativity perks up and I feel positive, energized, yet peaceful. It is because of the beauty, the colors, the shapes, the patterns. I love seeing these types of elements all around me.
I am a creative soul; it is a big part of who I am. When I was growing up, I loved writing poetry; now I love exploring new art techniques and the process of simply creating something. It fills a thirst inside me, it brings energy, and it gives mindful rest. During the day I am an art director at a publishing company working on book cover design.
My good friend Marge told me about the yoga classes at The Hammock, so I came because of her. I have been practicing yoga for about 9 years now and plan to always practice yoga for strength, balance, and flexibility. My body really needs these.
I love the atmosphere at The Hammock: the personalities of the teachers and their styles of teaching yoga; the room and lighting. Lovely people practice yoga. I have made friends there and the classes are fun. The classes offered at a yoga student's swimming pool are such a treat every summer.
Simply go to a class to experience it at your own pace. Know that each person is there for themselves and their own workout journey; there is no competition. Breathing is a primary part of yoga and the teachers help you learn this. It is very important to how your body works in yoga.
More about Tammy
You are a new addition to the crayon box…what color would you be and why? I think I would be a teal color. Teal likes to enjoy life, laugh in the face of danger, and stay interested in learning.
Describe your color to someone who is blind. Refreshing, curious, thriving.
The last three years I have been creating mandalas. The circular shape, patterns, and colors that you can fill Mandalas with really appeal to me for some reason. I've created them with markers, color pencils, and paints on paper and furniture. Lately, I have been teaching how to create mandalas with paint dots on rocks and other objects. I love what the dots create as a whole and every mandala is beautiful.
On a personal side, my hubby, Steve and I are blessed to have our son, Brett in 9th grade, and our older son Aaron, who lives and works in Kalamazoo, MI. We also include our calico cat, Butterscotch, in the family mix.