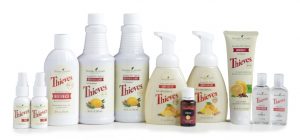 Hello, again!  So, let's talk about Thieves today. Thieves is an oil that helps to boost your immune system and kills germs. Thieves can be used for cleaning, for an air freshener, for sore throats, and for helping your body fight off sickness like the common cold.
Young Living has many products made from the Thieves essential oil – all-natural of course. No chemicals or toxins. You can breathe while you are doing your cleaning. No need for masks!
Keep in mind that these products are very potent and can usually be split into 3rds. You only need to use just a little bit of toothpaste to get clean fresh teeth. The household cleaner is potent enough you only need to use one cap full for a 12 oz. spray bottle. I only use 1 tablespoon of the laundry soap per load.
I love that I can make a spray bottle with thieves household cleaner or the thieves oil and use it to clean my counters and windows, spray on stains, and as an air freshener.
Well, that is it for now. We will chat again later.
– Melissa